Histoires à plumes et à poils
Théâtre du Nouvel-Ontario is a francophone theatre production company. All of our productions are presented in French, however, some shows feature English Surtitles™ so that more people can experience French theatre! We apologize, but not all content on this site is available in English.
Description
Vous êtes ici. Auprès d'un œuf qui s'échappe de son nid, d'une minibaleine qui ne veut plus se mouiller, d'une dinde dépressive, de deux bosses qui se disputent sur le dos d'un chameau, de porcs-épics facétieux qui se piquent en se serrant la pince… et encore!
En mots et en images, deux personnages et leur machine à jouer avec les bêtes racontent de petits récits animaliers éclatés et incongrus. Leur drôle de bestiaire nous emporte avec une douce folie sur le chemin plein de détours qui fait découvrir l'autre et soi-même.
DURATION
40 minutes

SCHOOL MATINEE
Novembre 27-29, 2018
---
Credits
Playwright

Marie-Hélène Larose-Truchon
David Paquet
Érika Tremblay-Roy

Director

Interpretation

Ludger Côté
Emmanuelle Laroche

Stage Manager

Andréanne Deschênes
Simon Vincent

Lighting

Music Designer

Visual Designer

Creative Advisor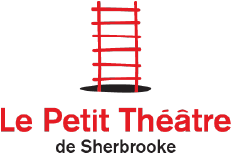 Tickets
---
Histoires à plumes et à poils
A production by Petit Théâtre de Sherbrooke
Leave your review
Let us know what you thought of the show.