Théâtre du Nouvel-Ontario is a francophone theatre production company. All of our productions are presented in French, however, some shows feature English Surtitles™ so that more people can experience French theatre! We apologize, but not all content on this site is available in English.
Description
What's it like having dyslexia, dysgraphia, dysorthographia, dyscalculia, dysplasia, attention deficit with or without hyperactivity?
At times, it's like being constantly followed by a little purple mammoth.
Mamuche is a play that lets the audience peek into the mind of Grace, a young girl with several learning disabilities. Busy with their separation, Grace's parents don't have the time or resources to help her blossom. Her reading and writing challenges isolate her from the other children in her village, as she learns differently from them. It's a good thing Grace has her best friend Mamuche, a stuffed purple mammoth, by her side on this great adventure! Armed with their vivid imaginations, the two friends set off in search of happiness amidst the magnificent landscapes of Northern Ontario. Mamuche has been designed in an eco-friendly way to be staged in all kinds of venues, from school gymnasiums and libraries to small theatres. 
___
Puppet theatre, storytelling 
Intimate and cosmic: theatre of the self, theatre of the world
___
Location: La Zone, Place des Arts
Duration: 60 minutes, without intermission
Age: 5 to 10 years old
Workshop: After each representation of Mamuche the young audience will have the opportunity to create their own sheep puppets ! We are also including a colouring book of our season and a snack !
Spokesperson: Nadia Simard, Puppeteer and School Cultural Animator
*This play is presented in French only.
___
---
Credits
Author and Director

Dramaturgical Consultant

Mentor in Puppetry, Set Design and Puppet Making

Music

Sound Design

Cast

Clémence Roy-Darisse
Virginie Charland
Annabelle Faucher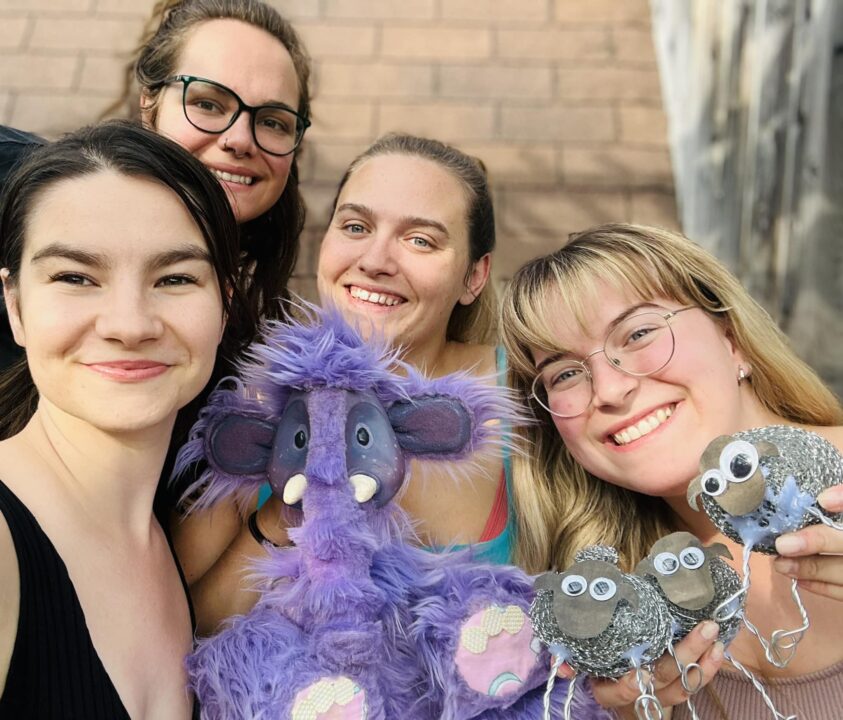 We would like to presnt to you the wonderful team of Mamuche!
Left: Clémence Roy-Darisse (Grace)
Behind: Kariane Lachance (Author and Director)
Centre: Virginie Charland (Manipulation of Mamuche)
Directly in the centre: The lovely purple mammoth Mamuche!
Right: Annabelle Faucher (Manipulation of the sheep)
Tickets
---
Mamuche
A production by Théâtre Mauve Sapin
Leave your review
Let us know what you thought of the show.