Théâtre du Nouvel-Ontario is a francophone theatre production company. All of our productions are presented in French, however, some shows feature English Surtitles™ so that more people can experience French theatre! We apologize, but not all content on this site is available in English.
Description
18 mois à 4 ans
Vous êtes ici. Au cœur de la douce routine quotidienne d'un bambin. L'enfant se réveille. Tout autour de lui, c'est le silence. Mais pas pour longtemps. Bruits de son corps. Mots qu'il prononce. Paroles de grandes personnes. Cris d'animaux. Sons de véhicules.
Du réveil au sommeil, l'enfant découvre son univers, au centre duquel se trouvent les mots, la parole, le langage, avec leurs rythmes, leurs sonorités, leur musicalité, leur poésie. La vie comme un poème. Les mots comme des jouets. Des jeux de mots. Des mots de jeux.
DURATION
25 minutes
SCHOOL MATINEES
May 22-24, 2019
---
Credits
Playwright

Director

Interpretation

Frédérique Thérien
Alexandre-David Gagnon
Sasha Dominique

Melodies

Pier Rodier (avec la participation des interprètes)

Set Designer

Martine Périat
Pier Rodier

Lighting

Costume Designer

Rehearsal Management

Representation Management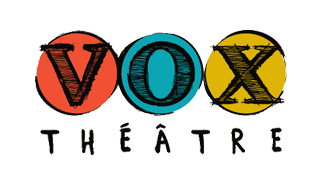 Tickets
---
Mots de jeux
A production by Vox Théâtre
Leave your review
Let us know what you thought of the show.