Théâtre du Nouvel-Ontario is a francophone theatre production company. All of our productions are presented in French, however, some shows feature English Surtitles™ so that more people can experience French theatre! We apologize, but not all content on this site is available in English.
Description
Music fans who lived through the 90s will undoubtedly remember the mythical acoustic concert series from MTV. These performances did away with the electronic and the synthetic and put artists' talents and voices front and center.
In this series, a small audience will have the chance to experience stripped-down, intimate readings of new plays in development by local authors, both emerging and established alike.
Only 10 to 15 seats will be available per reading, with each work only being read once. Discussions with the authors involved will take place following the readings.
Michel Ouellette's "Mylène parle" ("Mylène Speaks")
Friday, September 25 2020 at 7 PM
Presented during Théâtre Action's Feuilles vives
Directed by Dillon Orr
With Maude Bourassa Francoeur, Éric Lapalme, and Caroline Raynaud
Synopsis
Mylène vit avec sa mère. Des voisins, Derek et Suzanne, des enseignants à la retraite, lui ont demandé de veiller sur leur maison pendant qu'ils passent l'hiver au Texas. Un jour, Mylène découvre une femme dans la maison. Suzanne est de retour, seule, différente. Mylène est contente de retrouver sa voisine, qui semble ne pas se reconnaître elle-même. Une fiction s'installe, à laquelle participent les deux femmes. Mylène continue de s'occuper de la maison et de visiter Suzanne. Un jour, Derek revient à son tour. Rapidement, la toile de mensonges commence à s'effilocher. La vérité émerge.
About the Author 
Originally from Smooth Rock Falls, in northern Ontario, Michel Ouellette writes plays, novels, poetry and children's books. He has won several literary awards for his theatrical works, including the Governor General's Literary Award for his play French Town in 1994; in 2003, the Trillium Literary Award for Le testament du courrier; in 2011, the Michel Tremblay Prize for La guerre au ventre and, in 2019, a Prix Rideau for Le dire de Di.
Photo : Sylvain Sabatié
Alex Tétreault's "Nickel City Fifs" ("Nickel City Fags")
Thursday, October 22nd, 2020 at 7 PM
Directed by Dillon Orr and Alex Tétreault
With Hélène Dallaire, Ryan Demers-Lafrenière, Natalie Lalonde, Simon Landry, and Janie Pinard
Synopsis
Un mardi soir, une stretch de trottoir, une rencontre fortuite. Un trio de queers se polluent les poumons à l'extérieur du Zig's, le seul bar gai du coin. Arrive Dan, un jeune orphelin queer élevé dans un pot de fleurs. Lee, Karen et Aiden, avec l'appui du spectre de Ziggy Stardust, le prennent en charge. Par le biais de bizarres voyages imaginaires allant du ridicule et du flyé au touchant et au dérangeant, le groupe cherche à faire valoir ses racines communes à un des leurs.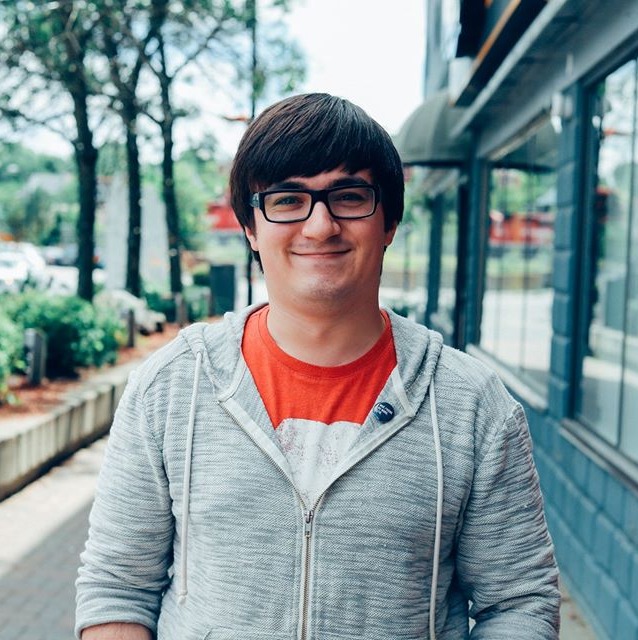 About the Author
A graduate of Laurentian University in Theater and Political Science, Alex is an author, clown and cultural worker. We were able to see him perform in The Adventures of Doctor & Beedo (2014 and 2015, Science North), L'insomnie (2015, LU), Les aveugles (2016, LU), and Mambo Italiano (2018, TNO). He was also stage manager for Zipi et Savon dans Mort vivant (2018) and Le petit chaperon rouge (2019, LU).
Last fall, he was a cast member of Plein la gueule! (2019, TNO), special project during which he also staged, and his short text Sursis, was read as a part of the project En grève autour de théière fumantes (2019, Feuilles vives / Théâtre Action) in Sudbury, Toronto and Ottawa.
Connected to his community, Alex is the president of Fierté Sudbury Pride and sits on several boards of directors. He is also a patron of the Community Fundraising Campain of Place des Arts du Grand Sudbury. In June of last year, he was the recipient of the first Bourse de création TNO – Geneviève Pineault, which enabled him to undertake the writing of this text.
Photo : Sophia Bagaoui-Fradette
Isaac Robitaille's "Une anguille dans mon café" ("An Eel in my Coffee")
Thursday, November 5th, 2020 at 7 PM
Directed by Gabrielle Noël de Tilly
With Maël Bisson, Mauricio Campbell-Martinez, Maxime Cayouette, and Micheal Lemire
Synopsis
Une horloge avec pendule, un téléphone, un miroir. Deux personnages. Qui sont-ils? Je ne sais pas. Que font-ils là? Je l'ignore. Peut-être que ce sont des anguilles? À vrai dire, j'en doute fort. Alors pourquoi ce titre? J'imagine que vous trouverez une explication. Moi, ça m'échappe complètement depuis 2018. J'ai écrit le texte onze fois, et je ne le comprends toujours pas. Je ne sais même pas comment le synopsisiser. Je sais que ce n'est pas un mot, mais c'est à peu près tout. Bonne chance!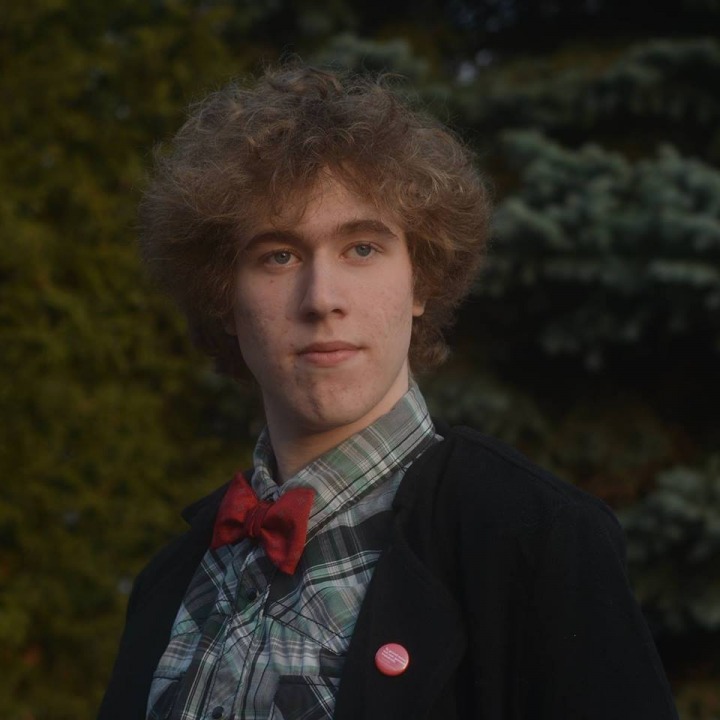 About the Author
Isaac Robitaille has recently completed a BA in Theater and Italian at Laurentian University. He has appeared in several productions including Quand on sème le vent (2017), Martyr (2017), Hamlet ou presque (2019). During his free time, he studies languages, piano and savate. Une anguille dans mon café is his first text.
Photo : Alanis Rodriguez-Beaudoin
Matthew Heiti's "Aéroportée" ("Airborne")
Friday, November 20th, 2020 at 7 PM
In partnership with the PlaySmelter Theatre Festival
Translated by Miriam Cusson
Directed by Manon St-Jules
With Miriam Cusson and Roch Castonguay
Synopsis
She is a mysterious aviatrix in a mad dash against time and peril. Her fascinating voyage is strangely similar to the final flight of a famous female pilot who disappeared without a trace. But who is this Amelia who follows in her wake and reinvents her fate? Myth and reality are entangled. Truth and fiction are mangled.
Fantasy, comedy and philosophical fable come together in this imaginary journey that plumbs the depths of memory that lives beyond death. The visions of two Sudbury playwrights intersect in Miriam Cusson's French transposition of Matthew Heiti's original English language play, Airborne.
Note : This reading will only be available online. However, there will still be a limited number of tickets available and audience members will be required to purchase tickets.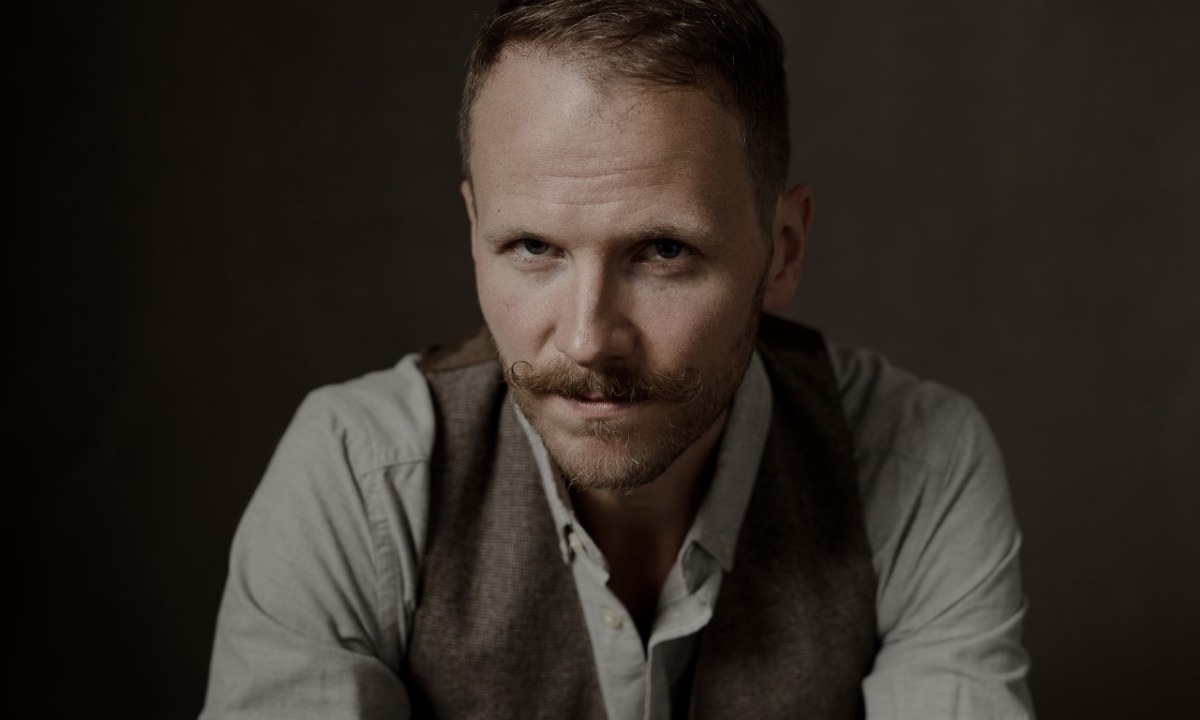 About the author
Matthew Heiti is a writer, actor, director and teacher born on Wembley Drive and now living one street away. He holds a BFA in Acting from Ryerson University and an MA in Creative Writing from the University of New Brunswick. His first novel The City Still Breathing (Coach House Books) was also published in French as Agonie City (Prise de parole, translation by Eva Lavergne) and his produced plays include Receiver of Wreck (PlaySmelter), Plague: a love [sic] story (Crestfallen),  Black Dog: 4 vs the wrld and Mucking in the Drift (Sudbury Theatre Centre). He teaches creative writing at Laurentian University and has served as Playwright-in-residence with STC and Pat the Dog Theatre Creation, working with emerging writers across Ontario. In his spare time he is usually working.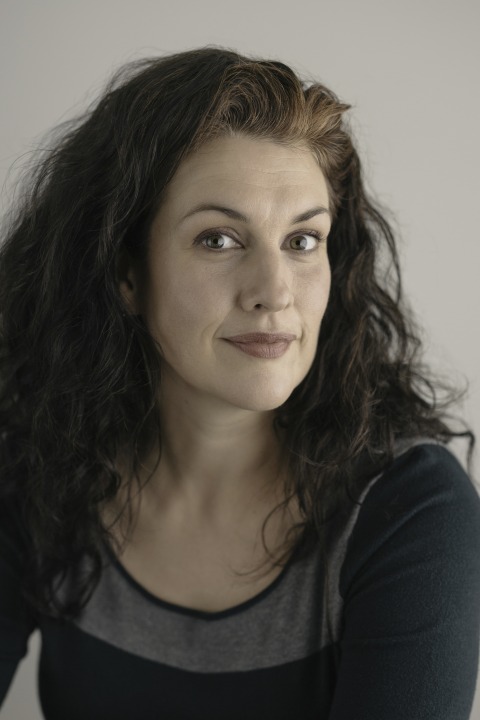 About the translator
Miriam Cusson is a director, actor, playwright, _ and designer. She lives in the epicenter of un grand trou noir dans l'espace du Nord, also known as Sudbury. Her artistic career is strongly inspired by the juxtaposition of the industrial and natural landscape of this region.
Her multidisciplinary work explores poetry amidst the violence and cruelty of contemporary society and questions the place and impact of individuals in our collectivity. Her artistic approach embraces a juxtaposition of vulnerability and fortitude, of beauty and destruction, while attempting to challenge preconceived notions and conventions. She was often called a rebel. It suits her perfectly.
Miriam has created and co-created several original works such as Tranquillité (2005), Le parcours littéraire (2006-2007), Stuff ou les aventures en catalogue (2007), Fara Lifa : Fred et Crudo do Iceland (2010), Nowhere du Nord (2013) and Parmi les éclats- Shattered (2018).
As a performer we could see her on stage in Blind Nickel Pig de Lara Bradley (2017), À tu et à moi by Sarah Migneron (2014), À la gauche de Dieu by Robert Marinier (2010),  Autour d'un foyer: Crise 2 (2004), Violette sur la terre by Carole Fréchette (2001-2002). De 2010 à 2012, Miriam played the role of Nadine in the television series Les Bleus de Ramville.
In 2017, Miriam received the OAC's prestigious JOHN-HIRSCH award and has recently been awarded the Greater Sudbury Mayor's Celebration of the Arts Award in 2018.
In 2019, Miriam received the Teaching Excellence Award at Laurentian University where she has taught in the Theater Program since 2004. She also teaches at The Clown Farm on Manitoulin Island since 2011 and at the Department of Theater at the University of Ottawa since 2019.
Chloé Thériault's "Solo Cup"
Thursday, December 3rd, 2020 at 7 PM
Directed by Chloé Thériault
With : France Huot, Michael Lemire, Elsa Simbagoye et Darquise Lauzon.
Synopsis
Having the talk can be awkward eh? Worry not your brain, Bianca, Nina et Freddie are here. Three young women join forces to fight against their worst nightmare: bad sex. Together, they create Solo Cup Bitches where they produce guides and TEDTalks of all kinds:  "do's and don't's", life hacks, personal conversations and even phone calls with anonymous people who have intimate questions. We discover their lives, their preferences and their desires, in addition to the drama that comes with it.
Strong language : The language used might not be suited for everyone.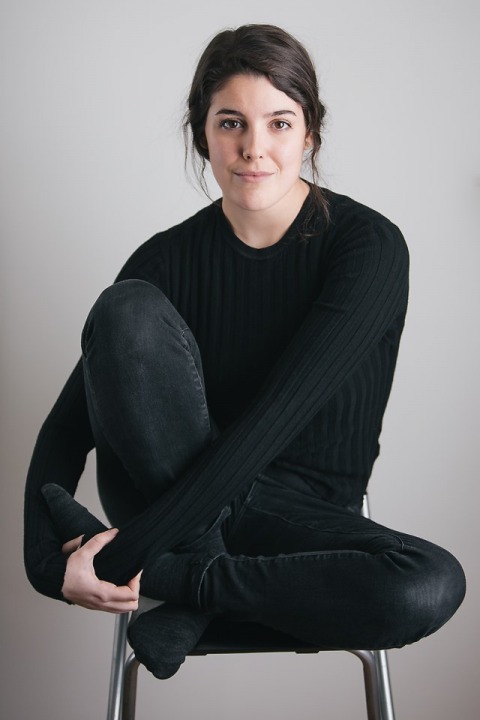 About the author
Chloé Thériault just finished her Specialization in Theater (Magna Cum Laude) at Laurentian University in June 2019. She has written two solo shows, which she has presented throughout  Ontario as well as in Vancouver. In comedy, she had the chance to do _  of Katherine Levac in Sudbury (2018) and on screen she played a supporting role on Letterkenny (S6, E1). In English, she has performed in  Mamma Mia and Mary Poppins via YES Theatre and in a Colleen Murphy's lab called Geography of Fire here in Sudbury.
Since our dear pandemic, Chloé has been working on writing a 3rd text titled  Solo Cup, the first public version of which is done via Les Feuilles Vives de Théâtre Action (September 2020). She also works as a poetic columnist at Radio-Canada (Jonction 11-17) and has just completed a tour of the TNO traveling show, Shack à patates (September 2020.)
Photo : Stacey Lalande
Tickets
---
TNO : « Unplugged »
Leave your review
Let us know what you thought of the show.