28 February, 2022 • Posted by Priscilla Pilon
SEASON 2021-2022 : TOGETHER AGAIN… AGAIN!
Dear friends,
After meticulously putting together our 2021-2022 season last fall, a few big gusts of wind came in and blew our pieces all over the place. One of our collaborators, Place des Arts, has recently published a press release regarding one of those pieces. You can read it here.
For months, we have been trying to reassemble the pieces of our puzzle. We think we have succeeded, but we are keeping the glue stick close by! We're now very excited to offer you a tweaked season 2.0!
We unfortunately lost a piece along the way, but don't worry : we have some surprises to make up for it!
So we present to you: TOGETHER AGAIN 2.0!
The TNO Team ❤️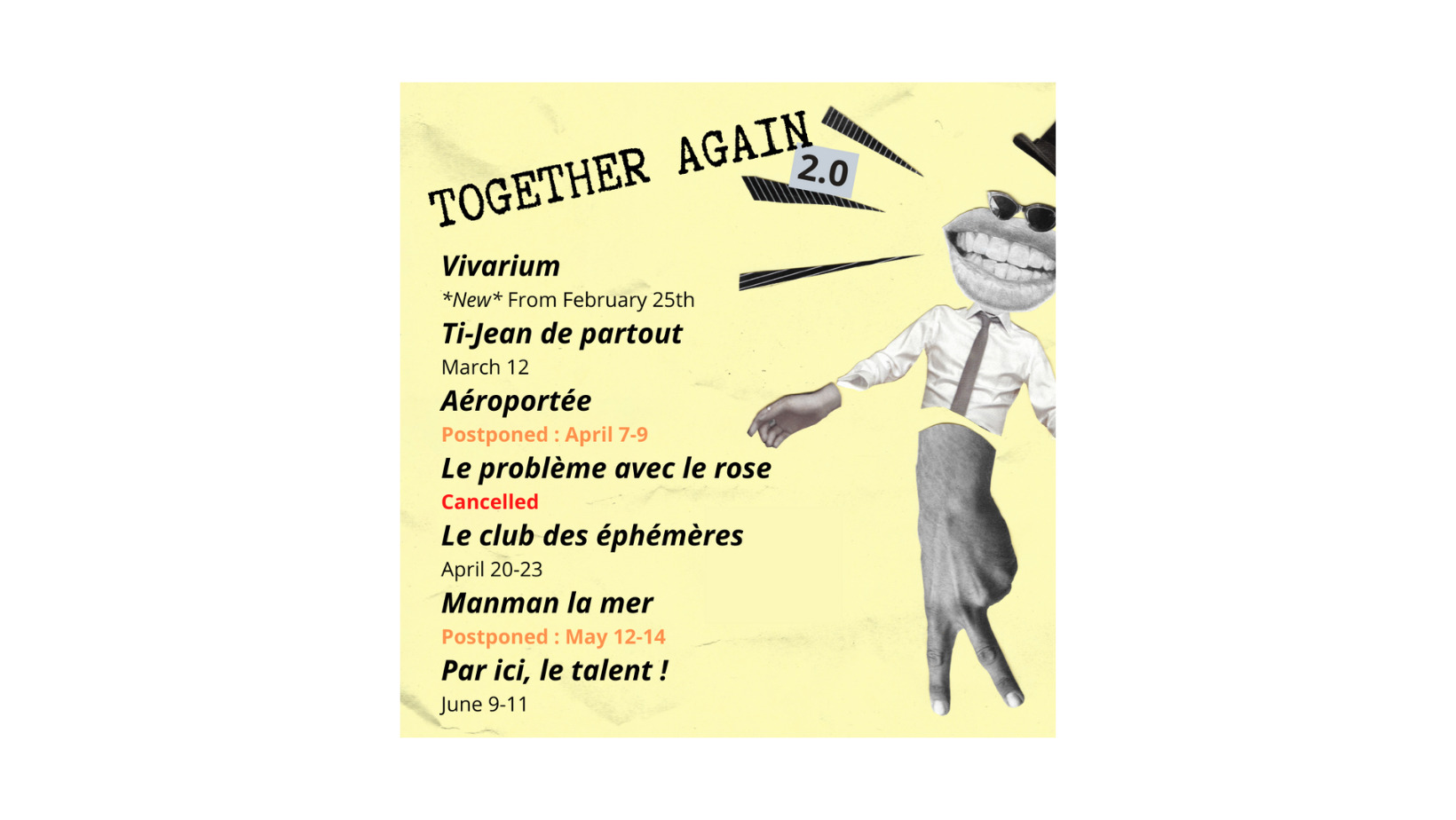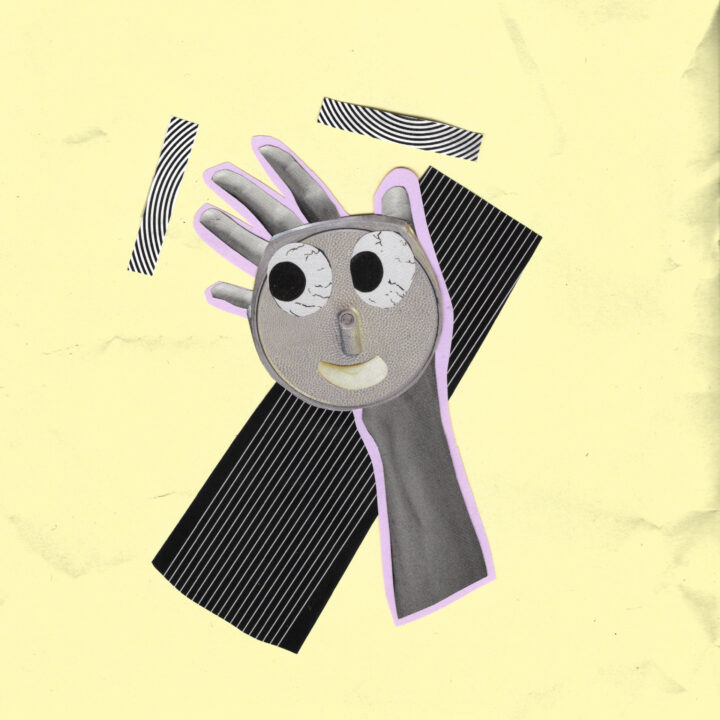 TI-JEAN DE PARTOUT
We start off the year with Ti-Jean de partout, a kids workshop-show, produced by Vox Théâtre. Franco-Ontarian author Marie-Thé Morin revisits, condenses and has fun with the adventures of a traditional Canadian tale character who no longer needs to be introduced; this same character has his origins in France and has travelled through the Francophone imagination on all continents for several decades.
Director: Dillon Orr
The workshop-show will feature Sudbury artist Chloé Thériault, who will be pleased to welcome families IN PERSON at Au pied du rocher, Collège Boréal, Saturday, March 12, 2022, at 10:30 a.m. and 2:30 p.m.! We look forward to seeing you there to marvel and craft together!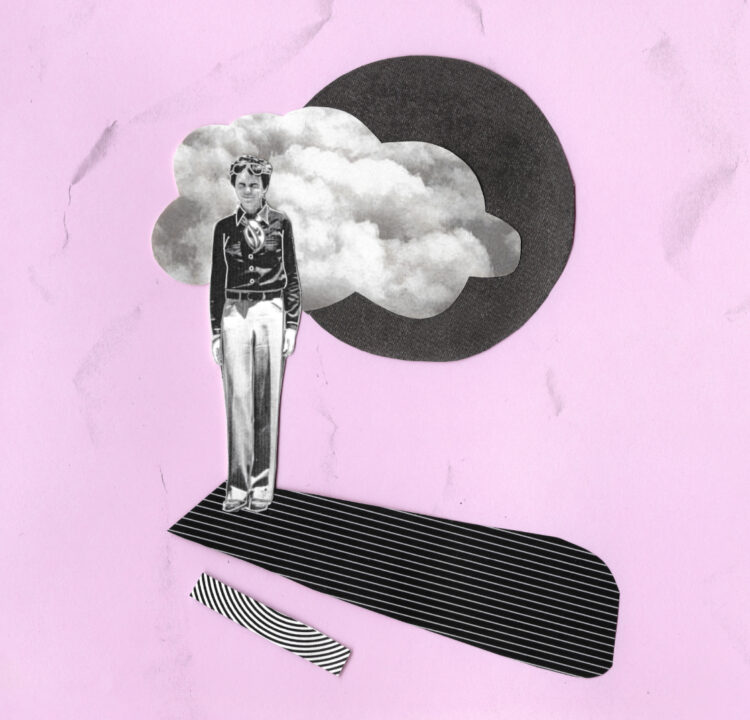 AÉROPORTÉE
TNO's annual creation brings to life the story of the famous American aviatrix Amelia Earhart. In Aéroportée, a mysterious aviatrix embarks on a mad dash against time and peril to reclaim her history. Her fascinating voyage is strangely similar to the final flight of a famous female pilot who disappeared in mid-flight without a trace.
Directed by Manon St-Jules, the visions of two Sudbury playwrights intersect in this dark comedy, as Miriam Cusson translates and adapts Matthew Heiti's original English play, Ever Falling Flight.
After a few attempts at taking off, we are excited to finally present this show from April 7-9, 2022! Please note that the performances will take place at SALLE TRISAC, Collège Boréal. English surtitles will be available on April 7th and April 9th.
Photo : Loïc Gauthier Le Coz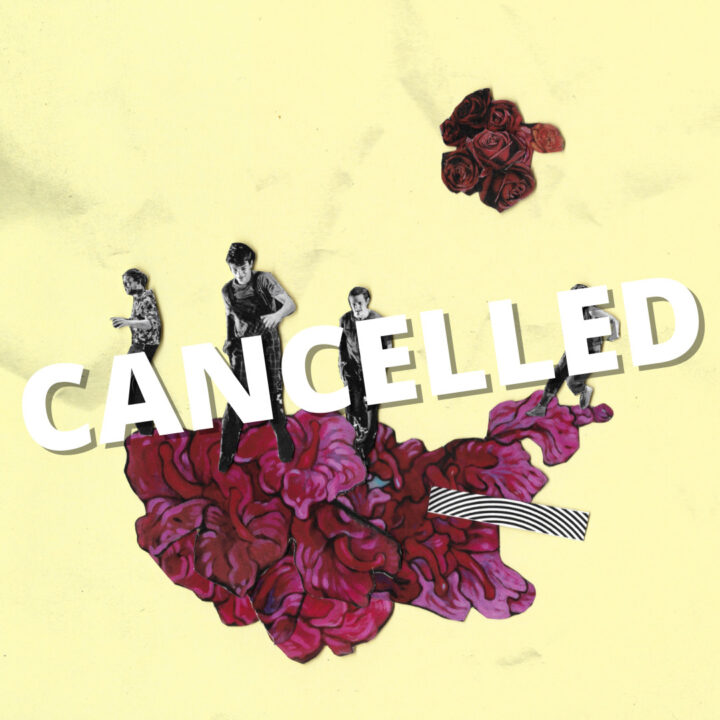 LE PROBLÈME AVEC LE ROSE
In our efforts to rearrange the programming, we did our best to keep all the pieces of the puzzle together. Unfortunately, a wonderful piece that we were hoping to present to you is no longer possible. Under the present circumstances, we have to cancel the presentation of Le problème avec le rose. We wish the team at the Petit Théâtre de Sherbrooke the very best of success as they continue to tour this poignant show!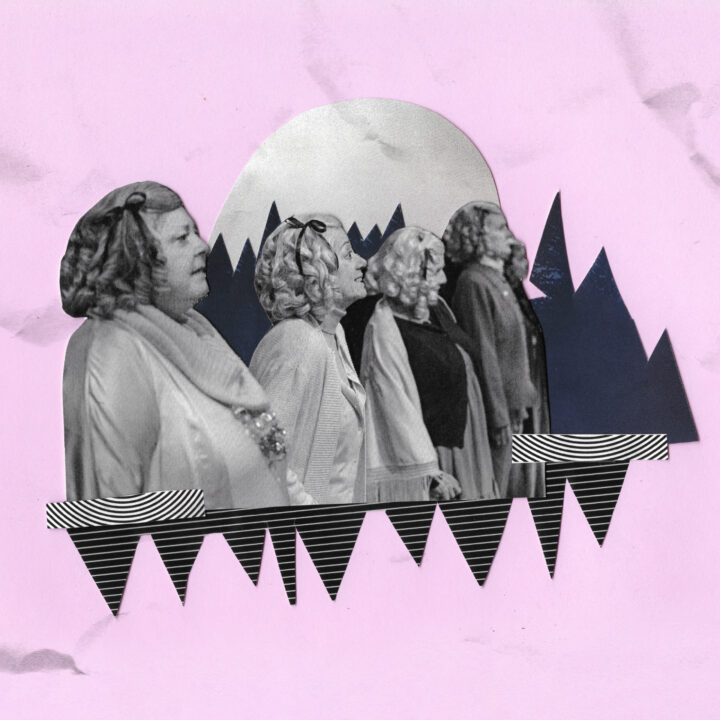 LE CLUB DES ÉPHÉMÈRES
The month of April will end with the anticipated return of Alain Doom's Club des éphémères. This TNO creation in co-production with the Théâtre français de Toronto made a short stop in Sudbury in March 2020, before its presentation was curtailed by the onset of the pandemic. This dramatic comedy features five residents of a senior citizens' home who reveal their obsession with the Dionne quintuplets through a documentary about the Shadflies. Performances will take place in Salle Trisac at Collège Boréal from April 20 to 23, 2022. English surtitles will be available on April 21st and April 23rd.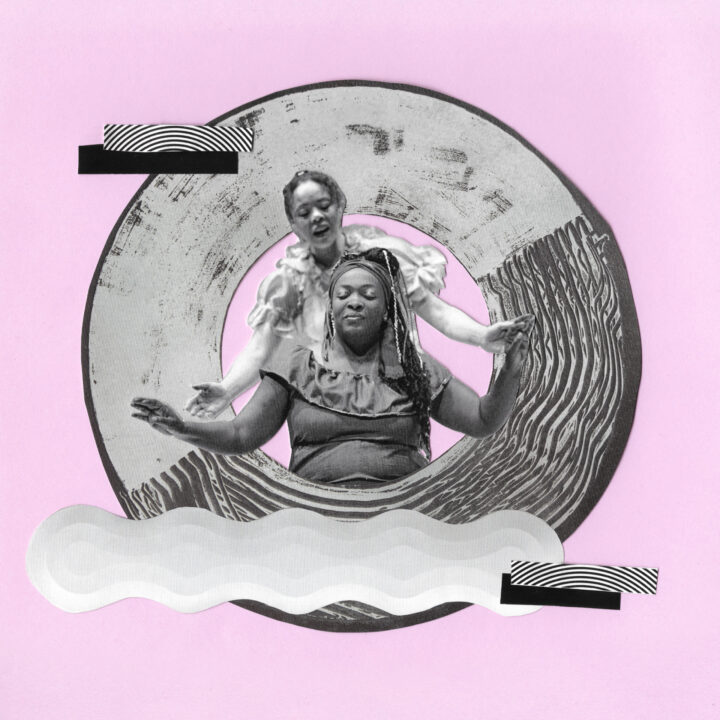 MANMAN LA MER
We will then present Manman la mer by Djennie Laguerre as part of our adult series. In this Théâtre Catapulte production, Marjolaine sees the future in her dreams. It's a gift her mother represses because she wants to distance herself from the misguided beliefs of their Haitian past. But when Marjolaine is stricken with a mysterious incurable disease, her only hope is to go to Haiti and rely on her grandmother's care.
Mark your calendars for this show! It will be our FIRST SHOW in La Grande Salle of PLACE DES ARTS, from May 12 to 14, 2022!  English surtitles will be available on May 14th.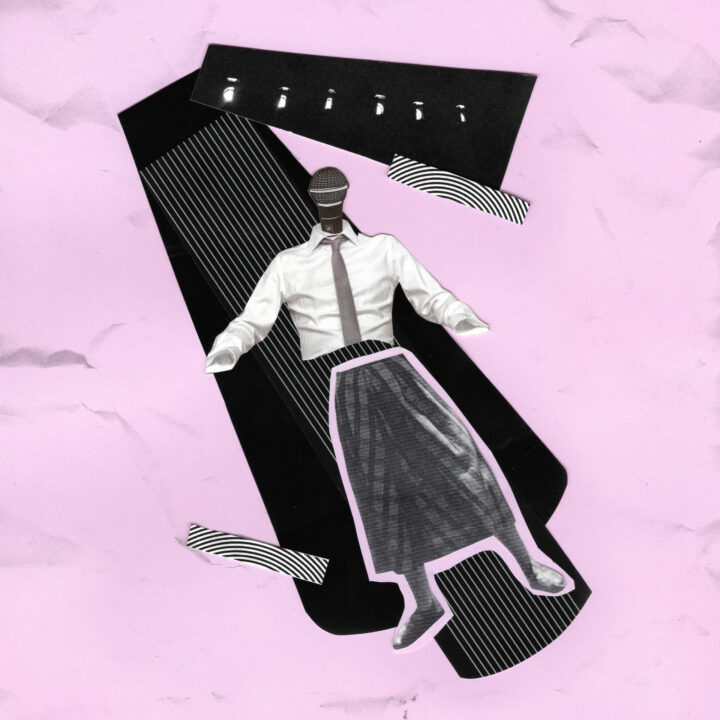 PAR ICI, LE TALENT !
Plans remain unchanged for the traditional TNO community show, which is back in full force, but in a very special format! Par ici, le talent! is a project that showcases the talent of Sudbury Francophones who are immigrants. This project is possible thanks to a great partership with the Centre de santé communautaire du Grand Sudbury (CSCGS), Communauté francophone accueillante and Place des Arts du Grand Sudbury, with the goal of creating rich encounter opportunities and forging links between Sudbury's Francophone cultural organizations and newcomers.
Eight citizens will participate in 3 evenings of this great theatrical talent contest presented on June 9, 10 and 11, 2022 at La Grande Salle of Greater Sudbury's Place des Arts.
We will soon be introducing our local talent. Keep an eye out for it on our socials!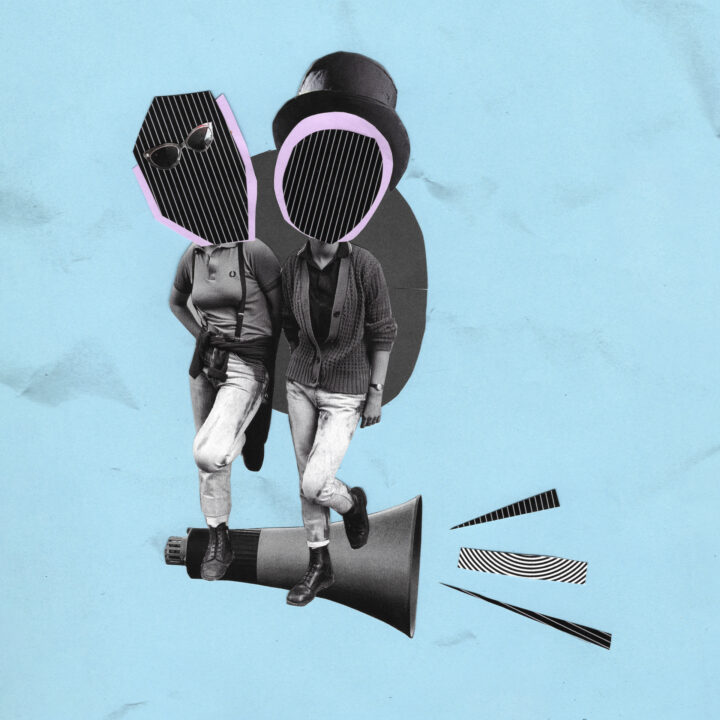 LA BRIGADE
The Brigade workshops led by Chloé Thériault are still ongoing.  Participating teens are currently meeting with seasoned artists who are sharing their skills with them. We will reveal the members of our Brigade shortly!
NEW: VIVARIUM
As part of its move to Greater Sudbury's Place des arts, the Théâtre du Nouvel-Ontario is also setting up its new production center at 139 Durham Street, formerly the famous International Village! To bring art and vitality back to this location, the TNO is launching its VIVARIUM.
VIVARIUM is a project of spontaneous artistic residencies that unfold like a human vivarium. From the street, watch art reveal itself through the window that comes to life, bringing out the beauty and poetic force of things and vibrating our imaginations. Over the next few months, Sudbury artists will be in residence at the production center, creating installations, performances and custom-made works for the Durham Street window, which the public will be able to enjoy from the sidewalk, coffee or hot chocolate in hand. The first artists to participate in the Vivarium over the next few months are Céline Lepage, Éric Lapalme, and Hoquet/Hiccup, a duo composed of France Huot and Jenny Hazelton.
The first artistic residency started on February 25 with artist Céline Lepage. Follow our social networks to see her work come to life!
Sanitary Restrictions and Your Comfort
We are currently assessing the implications of the most recent announcements regarding the lifting of health restrictions to ensure the comfort and safety of our artists and audiences when they come to the Theatre. Please let us know what you think in our short five-questions survey. Your answers will help us determine new sanitation protocols.
And that's it for our 2.0 season launch! Thanks for your patience dear friends! It's been a long wait… but we will get there, we will be together again!
One piece at a time.
One meet-up at a time.
One theatre date at a time.
Never missing a show.
Or carefully selecting each one.
To each their own pace.
To each their own place.